Above and Below: Understanding River-Groundwater Exchanges
Contemporary hydrology is concerned with pressing problems that often involve the interactions between rivers and groundwater. A review article recently published in Reviews of Geophysics explored scientific advances in observing, quantifying, measuring, and predicting the characteristics and processes that occur at the interface between surface water and groundwater. The editors asked the authors to explain some of the field-based and theoretical methods being used, and describe some of the challenges for research in this area.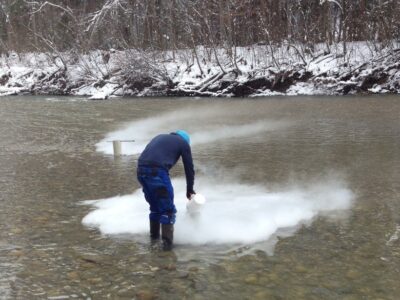 Several new approaches to characterize the geological and morphological properties of streambeds are now available, many of which were developed for applications outside the field of hydrology or hydrogeology.
For example, the latest generation of medical computed tomography scanners allows a high-resolution three-dimensional reconstruction of samples.
Liernur et al. [2017] combined such tomography technologies with freeze coring in which the subsurface is frozen around a hollow lance using liquid nitrogen. A sample can be extracted with minimal disturbance.
The combination of freezecoring and tomography affords unprecedented insights into the fine-scale structure of streambeds (see image below).
Original article published on EOS, 26 January 2018, (
link
)